Termite Barriers
Quality Termite Protection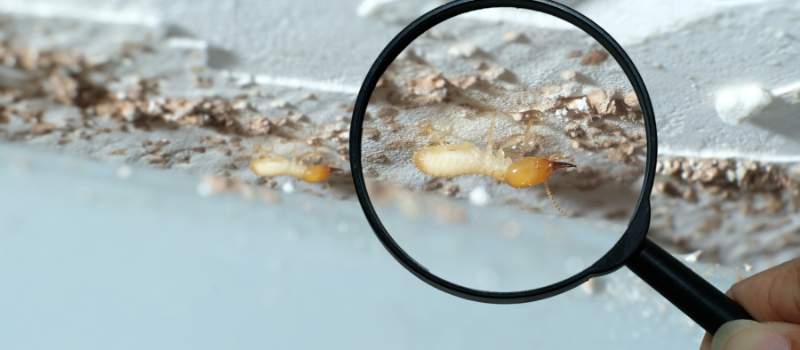 If you are serious about protecting your home or business investment, termite protection should be high on your list of priorities, particularly in the Adelaide area. Not only can you leverage conventional chemical barrier treatments, but there are also physical products that can be incorporated into the new construction that can give you decades of termite protection.
Termite Facts
Termite damage can cause significant and costly structural damage to your home
Colonies of termites can be incredibly large, up to millions of members
Termite infestations can be difficult to diagnose and locate until they have progressed to serious problems
Termites do not sleep or rest, they just eat and build, 24 hours a day
Termite queens can lay 15-30 eggs per minute, leading to tens of thousands of new termites daily
Pre Construction – New homes
If your home is in the pre-construction phase or if you have recently had a new home constructed, you may have encountered some of the more popular physical termite barriers that are in use today. These include barrier options like Termseal, Termimesh, Greenmesh, and others.
These physical termite barriers are so essential to long-term termite protection that they are often installed before the concrete slab is even poured. They can be used to protect only the service penetrations, where things like plumbing and electrical service come through the slab, or they can cover the entire slab. Both are acceptable by building standards.
These options consist of a stainless steel mesh that is incorporated into the construction of new homes and foundations. New construction that features Termseal or Termimesh will have physical termite protection for 10 years in most cases, and up to 50 years in others.
Post Construction
If you need termite protection for a home or business that is already built, you still have several options. There are termite bait stations that can be functional and effective for up to a year at a time and chemical barrier treatments that can last nearly a decade in ideal conditions.
Many homes are constructed with a termite reticulation system incorporated into the perimeter. This allows a pest control technician to easily and quickly apply pressurized termiticide to an underground channel which allows the dispersal of the insecticide into the surrounding soil. Once in the soil, the termites ingest the chemical agent and bring it back to their colony, eventually eliminating it.
If your home or business does not have a reticulation system, we can still help. There are reticulation lines that can be trenched in and installed post-construction, and while they will involve some minor and temporary disturbance of soil and pavers, they can be useful in making the application of future termite barriers easier and more effective.
Termite Barriers
The most popular termite barriers for post-construction protection are chemical barriers. These are applied directly to the soil, either topically or through a termite reticulation system. They allow the insecticide to seep into the soil, creating a three-dimensional barrier that can not easily be defeated.
Termidor is one of the most effective chemical barriers, and it comes in both a conventional strength and a high-efficiency formula. While the conventional strength is often cheaper, the high-efficiency formula requires far fewer drill holes and area disturbances to apply.
Chemical termite barriers, as well as most termite bait stations, should only be installed and serviced by licensed and accredited pest control technicians. All of our technicians follow the guidelines set by:
The National Construction Code
Building Code of Australia
Termiticide manufacturers
Chemical manufacturers
Termite physical barrier requirements
Termite Baiting Systems
One of the extra preventative measures that we often use is termite baiting stations. While they do have "bait" in them, they are not designed as attractants, and will not make any existing termite activity worse. They allow foraging termites to bring termiticide back to the colony, as well as allowing technicians to monitor overall termite activity in the area.
Some well-performing brands of bait stations include Trelona, Sentricon, and Exterra. While the Exterra bait stations can be easily monitored and serviced by the homeowner, the Trelona stations and the Sentricon stations should only be installed, monitored, and serviced by pest control partners like Pro Pest Control.
Assessing Your Home
One of the most important steps in ensuring that your home or business has the protection it needs is to have us come out for a full assessment. Our technician will take into account not only your pest inspection but your landscaping and more when making their assessment.
Exterior remediation may be complicated by paths, pavers, and tiles, and installation of reticulation lines or station placement may also be affected by your local soil makeup. This may also apply to split level homes that require prevention measures made below grade.
Your pest control technician will take all of this into account when providing your estimate for service. More complex measures, remediation, or station placement may also contribute to the complexity of your quote. Enquire today about scheduling your home pest assessment.
FAQ
How much does termite barrier service cost?
The average homeowner can expect to spend between $1500 and $3000 on average, $40 to $60 per linear metre of the home perimeter. Considering the life of termite barriers this makes them incredibly cost-effective.
Is a termite barrier safe for pets and children?
Physical termite barriers are harmless to pets and children, generally will not even be visible or accessible by the homeowner, children, or pets. Chemical barrier protection, while it does use effective insecticides that kill termites efficiently, are generally used in soil and deep enough that access by pets and kids will not be an issue.
How long do barrier treatments last?
Physical barriers will have a much longer life than chemicals since they are a stainless steel mesh and can last 10, 25, and even up to 50 years depending on the brand and installation. Chemical barriers will often be effective for an average of 5 years, though up to 8 is possible with Termidor products under ideal situations.
Why Choose Us
Termite Protection Specialists
100% Termite Colony Elimination Guarantee
QBCC Licensed
Termidor Accredited Applicators
$2 Million Dollar Termidor Warranty
Locally Owned and Operated Pest Control Company
Public Liability Insurance $20,000,000
Experienced and Reliable
Friendly Customer Service
Fully Licensed Pest Technicians
Always on Time – If We Make an Appointment We Stick To It
Free Quotes and Advice
Great Price Structure – We are Competitive
12 Month Warranty on All Treatments
100% Customer Satisfaction Guarantee
Service Locations
Adelaide CBD
Central Suburbs
Adelaide Northside
Adelaide Southside
East Adelaide
West Adelaide
Adelaide Hills
Request a Quote
Don't let termites be a burden – call us for your free onsite quote and get the peace-of-mind you deserve. Our dedicated team is available 7 days a week to answer any questions, so don't hesitate to contact us at 08 7743 5555!